Challenges and opportunities in addressing

the spread of

Sargassum

across the tropical Atlantic Ocean
Virtual event, 2 June 2021
"Sargassum is here to stay. Sustainable management of Sargassum influx requires both local action and international coordination and collaboration. A strong inter-regional cooperation between the Wider Caribbean and West Africa countries is essential," Cesar Toro (IOCARIBE)
This side event presented and discussed the challenges, solutions, and opportunities behind the spread of Sargassum across the Tropical Atlantic. During the event, experts introduced the state-of-the-art research on the spread mechanisms, various impacts and the present capacity of monitoring and forecasting of Sargassum.
"The negative impacts of sargassum influxes are multi-sectoral affecting fisheries, tourism, the environment, public health, maritime transport and coastal living. Sargassum-kissed shores have been a catalyst for innovation, inspiring cutting-edge research and development in harvesting equipment and sargassum related products. Exploring sargassum uses can provide solutions for a sustainable and equitable blue recovery to the COVID-19 crisis," Dr Shelly-Ann Cox, CERMES, Barbados
The event also introduced the Sargassum Information Hub (sargassumhub.org) and the UNEP – Cartagena Convention White Paper on Sargassum. A panel session with experts and stakeholders served to catalyse linkages, actions, and coordination across the Atlantic Ocean. By showcasing solution strategies and creating space for discussion and collaboration between scientists, engineers and stakeholders, the event provided powerful insight into the opportunities.
"The European Commission fosters collaborations across the Atlantic Ocean and contributes to tackling the Sargassum Challenge through our policies, through our programmes and through our partnerships," John Hanus (European Commission)
Co-hosted by Dr Audrey Hasson, the GEO Blue Planet EU coordinator, supported by EU4OceanObs, this was an official side event at the All-Atlantic 2021 R&I for a Sustainable Ocean High-level Ministerial & Stakeholders Conference, which took place from 2 – 4 June 2021. The panel was moderated by by Dr Cesar Toro from the IOCARIBE of IOC UNESCO.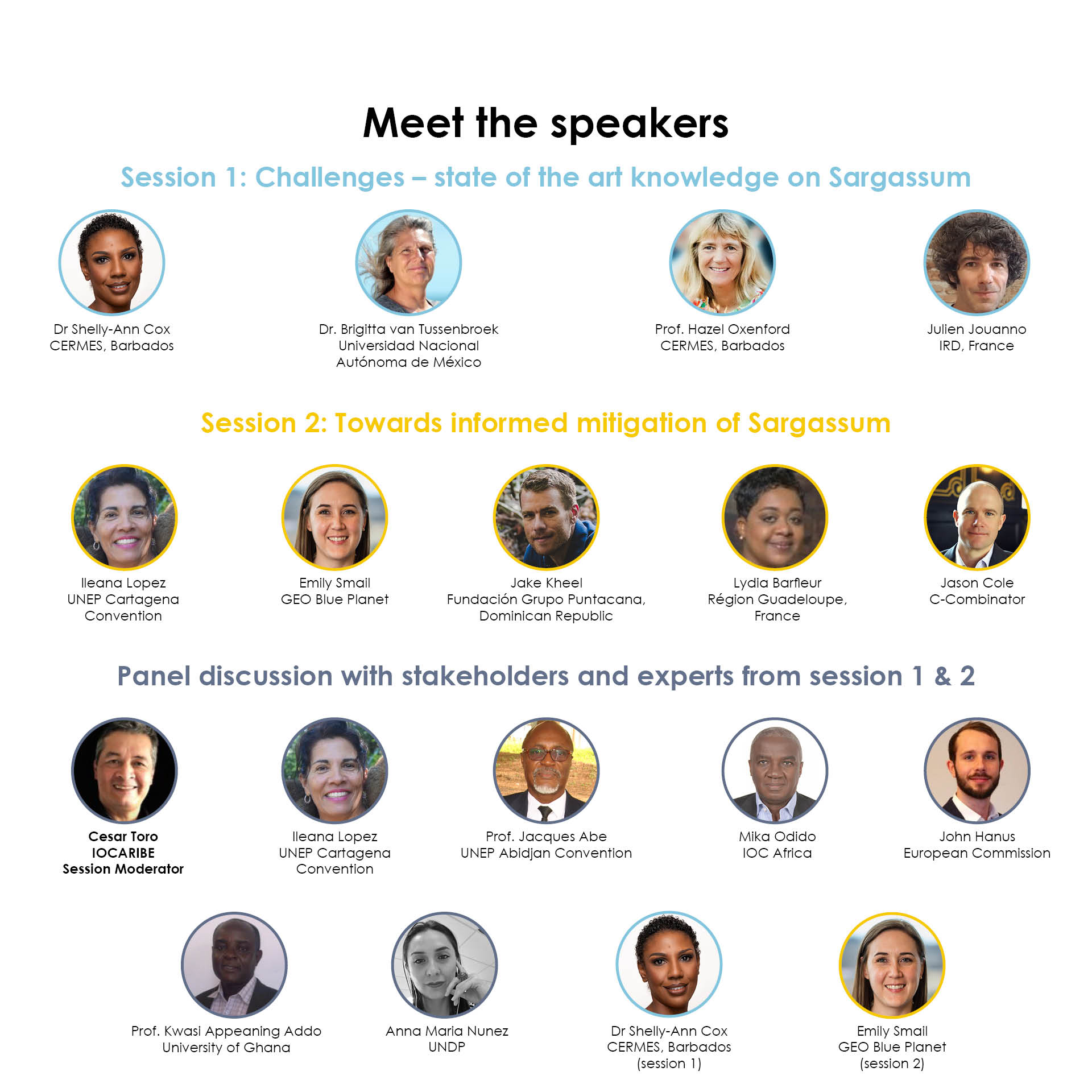 Replay of event
For privacy reasons YouTube needs your permission to be loaded. For more details, please see our
Privacy Policy
.