Funded through the European Union's (EU) Partnership Instrument, EU4OceanObs is an action on international ocean governance for the enhanced collection and use of ocean data for societal benefit on a global scale.
EU4OceanObs aims to strengthen the international strategy for and coordination of the global ocean observing system, by working with two overarching partnerships: the G7, through the G7 Future of the Seas and Oceans Initiative (FSOI), and the Group on Earth Observations (GEO) through the GEO Blue Planet Initiative. EU4OceanObs will also showcase Europe's leading-edge capacities and best practices across the ocean observing value chain, to enhance the impact and uptake of European programmes and products beyond Europe, and increase global cooperation and commitment to ocean observing.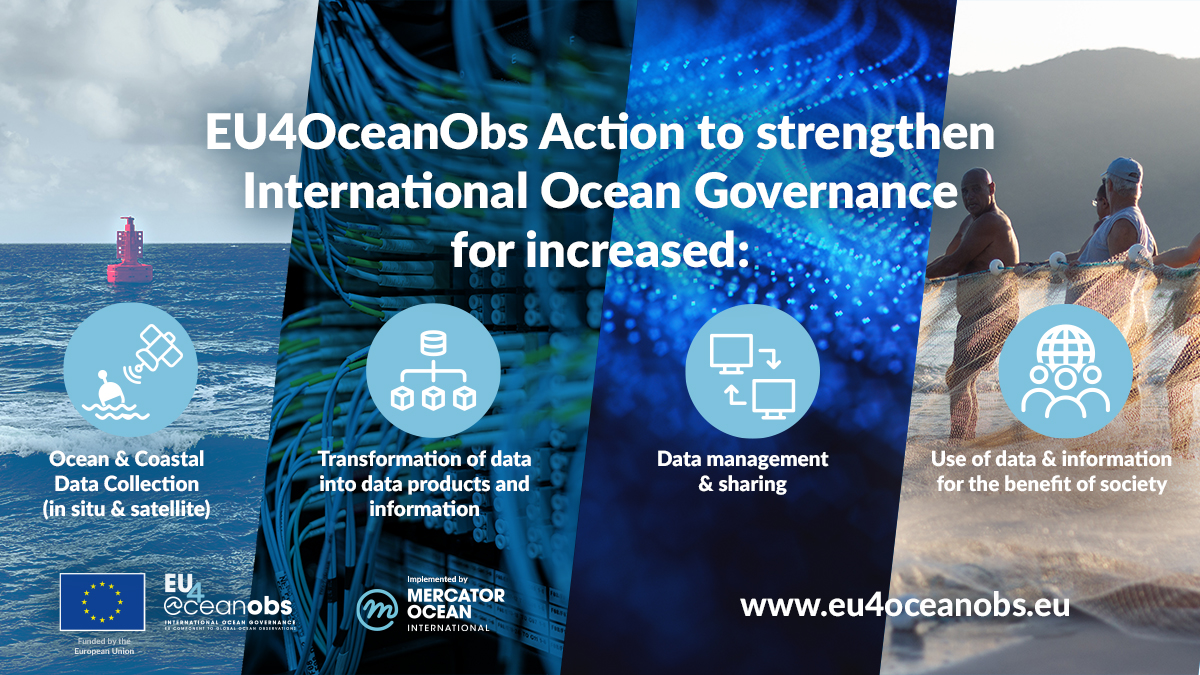 G7 FSOI & GEO Blue Planet components
EU4OceanObs works 'upstream' with the G7 FSOI, to coordinate the global collection of the ocean data required to meet global policy directives and to make the data findable, accessible, interoperable, and reusable. EU4OceanObs also works 'downstream' with GEO Blue Planet to promote and demonstrate the use of ocean observations for marine and maritime applications to address societal and environmental needs. By taking a leading role in the implementation of these two initiatives, EU4OceanObs will work in close collaboration with the main international, intergovernmental, and ministerial-level ocean governance structures. This will ensure that the European Union's (EU) contribution to the global ocean observing system is a comprehensive, coordinated and seamless end-to-end service that promotes and supports international and regional efforts.
European contribution to the global ocean observing system
Over the past decades, the EU has made significant investments to stimulate the development and use of ocean observations. EU4OceanObs will thus promote the EU's extensive global capacity for ocean observation, data-handling and sharing, modelling and forecasting and development of marine applications and services. It will showcase the EU's Copernicus Earth Observation programme and ocean observing research infrastructures (Eurofleets+, EuroArgo, JERICO-RI, EMBRC, etc.). It will raise awareness on how to access ready-to-use ocean data and information that are freely available worldwide through the EU's data management and sharing infrastructures (Copernicus Marine Service, EMODnet, Blue-Cloud, SeaDataNet, etc.).
EU4OceanObs will also increase the visibility of EU ocean forecasting and modelling services (Copernicus Marine Service, EuroGOOS), vital for early-warning systems, climate change adaptation and mitigation strategies, weather forecasts, ocean forecasts, and understanding ecosystem changes and drivers. EU4OceanObs will promote EU H2020 Research and Innovation projects working to enhance the ocean observing system, and EU initiatives driving the development of marine applications and sustainable practices. By targeting potential users within the EU and abroad, EU4OceanObs will strengthen international commitment to a global ocean observing system, foster collaborative partnerships, coordinate international efforts, and enhance the exchange and use ocean data and knowledge.
Rationale
Ocean observation and knowledge are more critical than ever. They directly contribute to keeping our oceans healthy and conserving biodiversity, monitoring climate change, and fostering a sustainable blue economy. By playing a catalytic role in support of the blue economy and the development of sustainable practices for marine and maritime applications, EU4OceanObs will contribute to the objectives under the European Green Deal, United Nations Sustainable Development Goals targeted at the oceans (SDG 14: Life Below Water) and the common framework of the UN decade of ocean science for sustainable development -Towards the ocean we need for the future we want (2021 – 2030).
Funded through the Partnership Instrument managed by the European Commission Service for Foreign Policy Instruments (FPI), EU4OceanObs (Action on International Ocean Governance – EU component to global ocean observations) is implemented by Mercator Ocean International.