With the rapid warming of the Arctic, estimated at 4 times faster than the rest of the planet in recent decades as shown in a new study, Arctic sea ice and the Greenland ice sheet are declining faster than ever, and permafrost across the Arctic is increasingly thawing. Hitting local communities the hardest, the consequences are global. From accelerating temperature rise to contributing to sea level rise, disturbing weather systems, and leading to the destruction of ecosystems. Intensifying the monitoring of this vulnerable region and prediction of its future state is more than ever needed to inform mitigation and adaption actions and rapidly increase conservation efforts. Find out how the European project Arctic PASSION contributes to an enhanced, fit-for-purpose Arctic observation and monitoring system.
Just over a year since its launch, the European funded Research and Innovation project – Arctic PASSION – Pan-Arctic observing System of Systems: Implementing Observations for Societal Needs – is well underway.  Working to co-create, develop and implement an integrated Arctic observing system, the project aims to overcome the present observing system's shortcomings, enhancing its operability, improving and extending Arctic scientific and community-based monitoring (CBM) and the integration with indigenous and local knowledge.
Arctic PASSION will streamline the access and interoperability of Arctic data systems and services, improve the economic viability and sustainability of the observing system, while working with the Sustaining Arctic Observing Networks (SAON), Copernicus Earth Observation programme, the Group on Earth Observations (GEO) and other European and international programmes. The project will be carried over five years with €15million of funding from the European Union.
Marking its one-year anniversary, Arctic PASSION held its first General Assembly in June 2022, bringing together over 100 project participants including Indigenous Community partners. The gathering served to go over preliminary project results and discuss topics such as Shared Arctic Variables (SAVs), facilitate policy dialogue with Indigenous delegates, and explore how to best combine Indigenous and Local Knowledge with scientific data, project communication and best practices in data management.
Group photo at Arctic PASSION General Assembly, Helsingør, Denmark, 27 – 30 June 2022. Photo credit – GRID-Arendal's (c) Olivia Rempel
Some highlights over this first year include:
A scoping workshop and policy paper on Data-driven Subnational Decision-making in the Arctic
In early June 2022, scientists, experts and local, regional and national decision-makers met in an online workshop to identify key issues in linking pan-Arctic observing systems with the needs and responsibilities of subnational authorities and agencies. Discussion focused on the use of community-based observations and traditional knowledge in subnational decision-making, and the challenges related to how understandable, relevant and hence useful data are for all kinds of users and rightsholders in the Arctic.
Innovating user-driven Arctic EuroGEO Pilot Services serving Arctic rights holders and stakeholders, science, and policy
The project is developing 8 pilot services, that will provide information for knowledge-based decision making in areas of societal and economic relevance that are presently inadequately served: food security, emergency preparedness, and pollution risk reduction, environmental change information, and infrastructure, transport, and safe shipping. The open and free access services are being co-designed with end-users to ensure their relevance and impact.
For more information click here, to access the services' web portals, click here.
New moorings and ice drifting buoys deployed in Arctic Ocean to fill data gaps
Project partners are participating in the Norwegian Polar Institute's (NPI) Arctic Ocean Cruise, in line with Arctic PASSION's objectives to extend the NPI's long-term monitoring of the Arctic Ocean to the western part of the Eurasian basin, where observations are rather sparse. New ice drifting buoys have been deployed near North Pole and two moorings in the deep Arctic Ocean, anchored at about 4000m depth.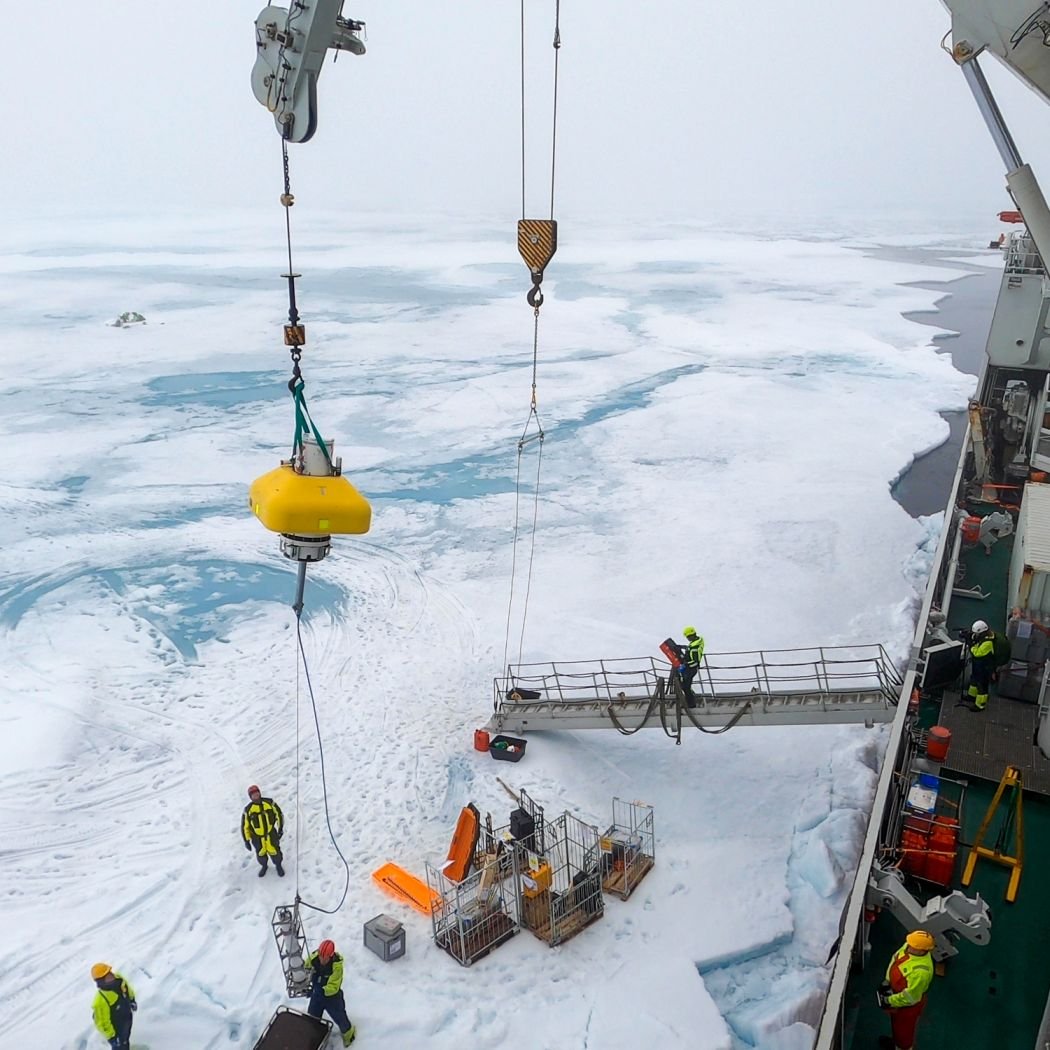 Buoy being craned down from the vessel onto the sea ice before deployment. Photo credit- Trine Lise Sviggum Helgerud (c) Norwegian Polar Institute
Peer-reviewed article on Sustaining Arctic Observing Networks' (SAON) Roadmap for Arctic Observing and Data Systems (ROADS)
SAON set forth a bold vision in its 2018 – 2028 strategic plan to develop a roadmap for Arctic observing and data systems (ROADS) to specifically address a key gap in coordination efforts-the current lack of a systematic planning mechanism to develop and link observing and data system requirements and implementation strategies in the Arctic region. Read more in the article published in Arctic in February 2022. DOI:14430/arctic74330, facilitated with funding from the project.
Report on missing elements for an improved Arctic observing system:
This report provides and assessment on how community-based monitoring (CBM) networks can expand observations, improve baselines, identify and monitor new indicators, local impacts and how CBMs can be sustained. This report is part of a wider assessment of the missing elements in the Arctic regarding observations, spatial and temporal scales of change and multiple ways of knowing. To access the report, click here.
The European Union's increased engagement to protect the Arctic
The EU's updated Arctic policy, released in October 2021, aims to help preserve the Arctic as a region of peaceful cooperation, to slow the effects of climate change, and to support the sustainable development of Arctic regions to the benefit of Arctic communities, not least Indigenous Peoples, and future generations.
As part of its efforts to preserve the marine Arctic environment and combat thawing permafrost, the EU is committed to improving the knowledge of the Arctic. Consequently, the European Union funds projects such as Arctic PASSION and Nunataryuk – focusing on permafrost research, among others, to facilitate further research and innovation needed to enhance the Arctic observation and monitoring system, including integrating data from Indigenous communities. Enhanced understanding of the Arctic and its changing state will improve decision making and knowledge on the impact of climate change in the Arctic and globally, needed to support effective adaptation and mitigation measures and preservation efforts.
EU4OceanObs, through its components on the G7 Future of the Seas and Oceans Initiative and the GEO Blue Planet Initiative, will work with partners and stakeholders to stimulate global cooperation and commitment to Arctic ocean observing for the enhanced collection, sharing and use of ocean and coastal observations to address societal and environmental challenges in this region.
The European Union commitment to the Arctic 
For privacy reasons YouTube needs your permission to be loaded. For more details, please see our
Privacy Policy
.
I Accept