The G7 Future of the Seas and Oceans Initiative (FSOI) and the Biology and Ecosystem Panel of the Global Ocean Observing System (GOOS) held a workshop entitled, "Towards a global marine plankton observing network: development of a strategy and implementation plan" from 25 to 27 September 2023.
The 3-day workshop served to deliver tangible advice on how to overcome current gaps and limitations on two goals related to the three pillars of plankton research: data infrastructures, observing, and forecasting:
Enhancing integration: bridging ocean surface and underwater observations for ecological projections and policy guidance
Unlocking plankton data: enhancing interoperability and fairness for comprehensive plankton data analysis, ecological understanding, and forecasting
During the workshop, 48 participants with expertise on observational and modelling approaches, data management and policy, discussed actions needed to bridge the gap between different observing (in-situ, satellite) and modelling approaches for advancing research knowledge and its use in policy needs (frameworks, assessments, operational oceanography, Digital Twins of the Ocean).
The first day included two state-of-the-science presentations, developed by collaborative groups of experts from international research projects, programs and networks. The second and third days featured breakout sessions on topics related to the workshop goals. The discussions emphasized the importance of sustained observing systems with the capacity to collect observations over the long-term, make data accessible and freely available and meet user needs.
Workshop participants highlighted the need for close collaboration among data providers, data managers, and data users like modelers and policy makers  to identify observing needs and agree on priorities. Plankton communities are complex and dynamic with high patchiness across a vast, 3-dimensional ocean. A single observing or modelling method that captures all this complexity is not feasible. However, ensuring the integration and interoperability of data from different observing and collection methods and applying standards to ensure the data are Findable, Accessible, Interoperable and Reusable (FAIR) is a powerful means of guaranteeing the delivery of data for decision-making.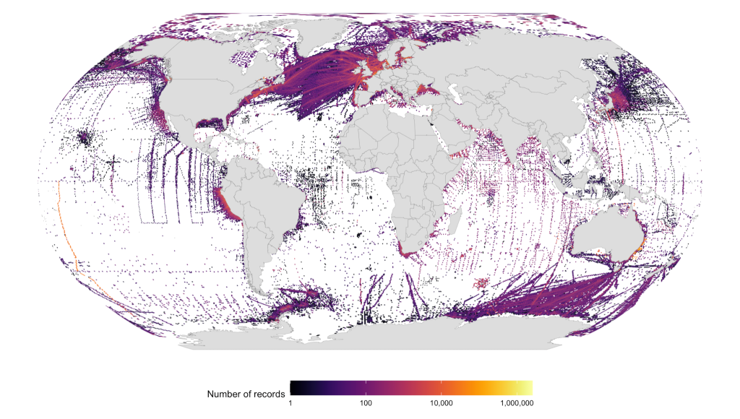 Plankton data in OBIS (Ocean Biodiversity Information System): 485 datasets – 8,662 species – 13,767,740 records
This workshop is in the framework of the G7 FSOI intersessional activity supported by Germany, the EU, Japan, Italy, the UK, and the USA as part of the G7 FSOI 2023 workplan, and led by the G7 FSOI EU coordination hosted by Mercator Ocean International, supported by the EU4OceanObs project.
Useful links