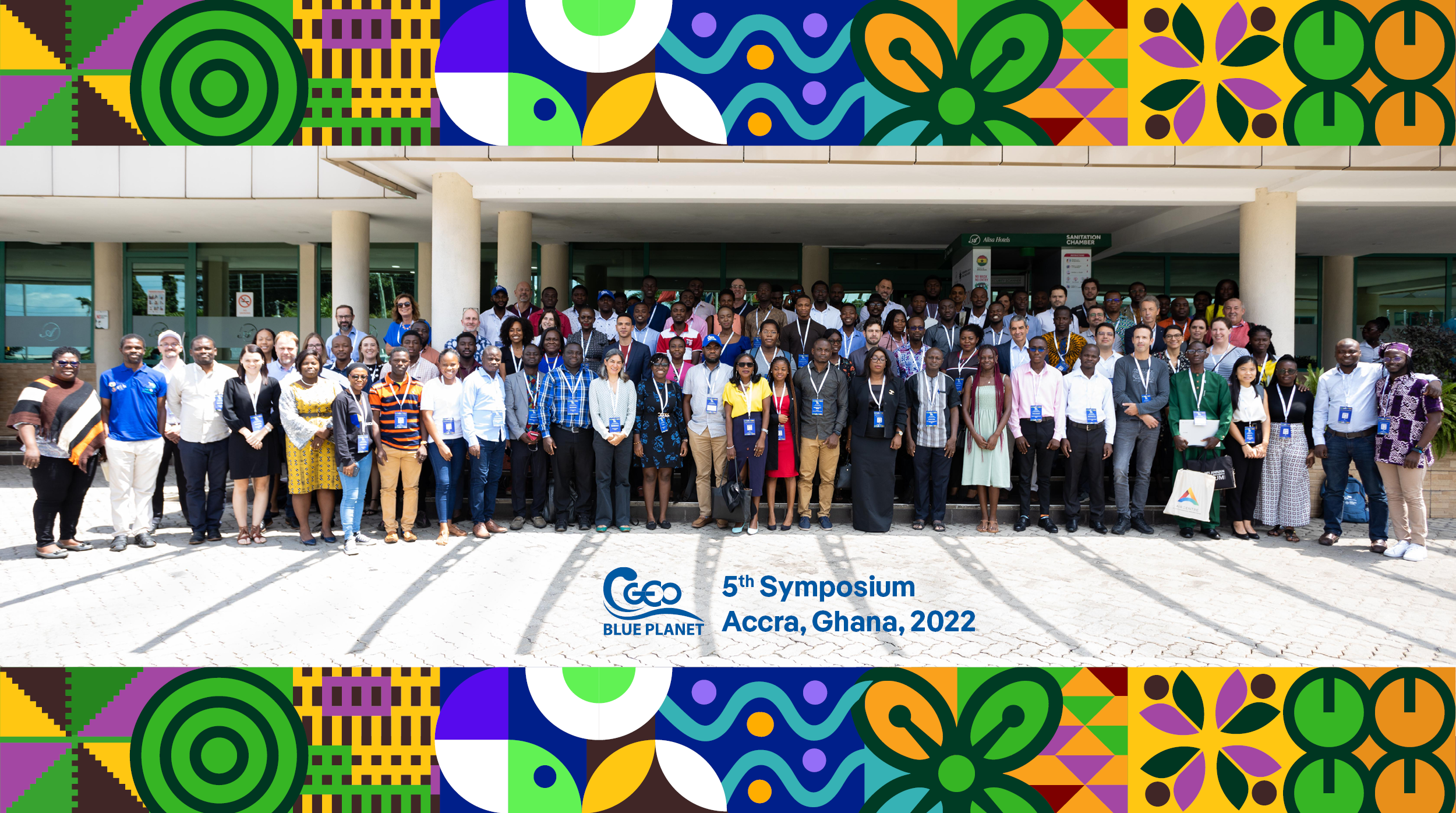 The GEO Blue Planet Initiative aims to ensure the sustained development, and use of ocean and coastal observations for the benefit of society. Symposiums are organised every 1 to 2 years in different regions to increase regional linkages, connect stakeholders with the ocean and coastal observing community, and gather community feedback on the focus of GEO Blue Planet activities. The EU Office of GEO Blue Planet, facilitated by EU4OceanObs, together with the US Office, provide logistical and technical support, coordinate activities and foster the development of new partnerships.
The GEO Blue Planet Initiative held its 5th Symposium between 24 and 28 October 2022 in Accra, Ghana. Themed "Local Action in support of global traction", this flagship event took place for the first time on the African continent with the aim to improve GEO Blue Planet's engagement with African nations in an effort to expand the Earth observation community of practice, strengthen local capacity, and provide them with access to resources, tools and services.
181 participants from 16 different countries attended the event, which welcomed a large number of participants from Ghana and from diverse sectors (academia, industry, regional governing agencies, Ghanaian public authorities, Earth Observation experts, NGOs and media).
Co-organised by the GEO Blue Planet Secretariat (Mercator Ocean International, NOAA and the University of Maryland) and the Atlantic International Research Centre (AIR Centre) in close collaboration with local partners – the University of Ghana and University of Energy and Natural Resources (UENR), the Symposium was funded by the European Union through the EU4OceanObs project, the Copernicus Marine Service and the Framework Partnership Agreement on Copernicus User Uptake.
Programme overview
The full packed week featured:
An opening ceremony with high level remarks, including welcome addresses from Kwamena Quaison (Chief Director of the Ministry of Environment, Science, Technology & Innovation (MESTI), Ghana), Prof. Elvis Asare-Bediako (Vice-Chancellor of University of Energy & Natural Resources, Ghana), Joanna Drake (Deputy Director-General for Mobility and Environment, European Commission DG RTD), Massimo Mina, the Head of Cooperation at the EU Delegation in Ghana), Dr. Zacharie Sohou (Vice-Chair of IOC-Africa), Dr. Angela Lamptey (University of Ghana), Ignatius Williams (GMES&Africa) and the GEO Blue Planet EU and US offices represented by Dr. Pierre-Yves Le Traon (Mercator Ocean International) and Dr. Emily Smail (University of Maryland/NOAA) respectively.
For privacy reasons YouTube needs your permission to be loaded. For more details, please see our
Privacy Policy
.
I Accept
Welcome remarks from Joanna Drake – Deputy Director-General for Mobility and Environment (European Commission Directorate-General for Research and Innovation)
3 plenary sessions centred around fisheries, coastal hazards and ecosystem conservation offering a diverse and rich panel of speakers that unpacked the needs of marine and coastal communities across Africa, highlighted existing tools and opportunities for them to address their challenges, and provided inspiring examples to shine a light on the way forward;
a full day of parallel training sessions on coastal and ocean observations catering to the general public and academic audience;
an interactive poster forum to exhibit cutting-edge research and developments, and facilitate information round-table discussions;
a session dedicated to Copernicus private sector opportunities with pitches from 20 Ghanaian and European Small and Medium Enterprises (SMEs) on how their marine sector businesses are using earth observations.
5 thematic workshops linked to GEO Blue Planet activities to take the discussions further on the themes of using earth observational data for fisheries and aquaculture site selection, monitoring of coastline changes, marine litter, sargassum inundation events and to inform national adaptation plans.
In support of the UN Decade ECOP programme OceanBRIDGES task team co-led by GEO Blue Planet, each plenary session included at least one Early Career Ocean Professional (ECOP) speaker and the coastal hazards panel discussion was entirely made up of ECOP panellists.
Recommendations and outcomes from the Symposium were then presented to the wider GEO community at GEO Week 2022, which took place a week later in Accra, between 31 October and 4 November in Accra, welcoming more than 1200 delegates.
For the summary report, presentations, speaker information, replays, photos and more information, click here.
EU support for the sustainable development and use of ocean and coastal observations in Africa
The European Commission is committed to fostering Europe-Africa cooperation as part of its strategy to enhance the collection, sharing and use of global ocean observations to address societal challenges. With new political opportunities and technological advances, strengthened cooperation in this domain between the two continents is paramount for achieving the UN Ocean Decade outcomes, the UN Sustainable Development Goals (particularly SDG 14), and a global digital and green deal.
In support of expanding global monitoring and forecasting capacities, and increasing the use of ocean and coastal observations and derived data products, tools and services to address environmental and socio-economic challenges in Africa, the various sessions of the Symposium featured several EU funded or partially funded programmes, services and projects including:
The Global Monitoring for Environment and Security and Africa (GMES and Africa), joint programme of the African Union and European Union Commissions:

GMES and Africa Marine Weather Early-warning Services in West Africa in Support of Africa's Blue Economy Agenda (link to presentation)
GMES and Africa Marine and Coastal Operations for Southern Africa and the Indian Ocean (MarCOSIO) (link to presentation)

EU Copernicus Earth Observation Programme

Copernicus Marine and coastal zone monitoring & forecasting (link to presentation)
Demonstration of Copernicus data access & visualisation services: MyOcean viewer
Introduction to Open Source EO Tools: Copernicus Marine Service and Jupyter Notebooks (link to presentation)
Copernicus Uptake Programme: Private sector opportunities using Copernicus-based products in support of a sustainable blue economy in Africa including pitches by European SMEs using Copernicus data in their marine orientated businesses. This side event was hosted by the AIR Centre, together with the Portuguese Space Agency as part of the activity "Copernicus SMEs – Atlantic Ocean Interactions" funded by the European Union through the Framework Partnership
MANCOGA – Using data and co-design approach in understanding the role of mangroves in sustaining fisheries funded by the MeerWissen Initiative (link to presentation)
ESA Coastal Erosion and Disaster Resilience projects (link to presentation)
EU Mission Restore our Oceans and Waters by 2030 opportunities for collaboration in research and development projects to protect & Restore Marine and Freshwater Ecosystems & Biodiversity, to prevent & eliminate pollution and to support carbon-neutral and Circular Sustainable Blue Economy and All-Atlantic Ocean Research Alliance (AANChOR) aiming at enhancing marine research and innovation cooperation (link to presentation)
To find out more click here.
Useful Links
About GEO Blue Planet
The GEO Blue Planet Initiative is the ocean and coastal arm of GEO – the Group on Earth Observations and supports the sustainable development of ocean and coastal observations to inform decision making in the face of societal and environmental challenges. Launched at the end of 2020, the European Office is hosted by Mercator Ocean International as part of EU4OceanObs – a European funded action serving to strengthen international ocean governance for the increased collection, sharing and use of ocean and coastal observations for societal benefit. Together with the US office, hosted by NOAA and the University of Maryland, the two Offices make up the GEO Blue Planet Secretariat and provide scientific and logistical support for GEO Blue Planet activities, coordinate operations and foster the development of new partnerships.