The European Commission is committed to fostering Europe-Africa cooperation as part of its strategy to enhance the collection, sharing and use of global ocean observations to address societal challenges. With new political opportunities and technological advances, strengthened cooperation in this domain between the two continents is paramount for achieving the UN Ocean Decade outcomes, the UN Sustainable Development Goals (particularly SDG 14), and a global digital and green deal.
The Blue Economy offers huge potential for economic growth, diversification, and development, and information derived from Earth observation plays a critical role in managing marine and coastal resources in Africa. Launched in 2014, the Global Monitoring for Environment and Security and Africa programme (GMES and Africa) is the main vehicle of Europe-Africa cooperation on Earth observation and data processing systems, and their applications in a user-driven approach. Building on existing Earth observation programmes and infrastructures such as Copernicus, GMES and Africa focuses on developing African Earth observation capacities in several key areas, including management of marine and coastal areas and resources.
With  more  than  35,000  km  of  coastline,  coastal  and marine  environments  play  a  vital  role  in  the  socio-economy  of  many  African  countries,  contributing  significantly  to  income, food security, trade, transport, energy and supporting a wide range of coastal livelihoods
As a step to renew and strengthen the Europea-Africa Space cooperation, the Europe-Africa Space Earth Observation Forum took place in June 2021 under the Portuguese Presidency of the Council of the European Union. With the theme 'Space as an enabler for digital and green transitions, with Earth observation fostering sustainable development, new skills and job creation", this high-event aimed to foster European-African cooperation on advanced Earth observation and data processing systems and their applications in a user-driven approach.
To expand the global monitoring and forecasting capacities, and increase the use of ocean and coastal observations to address environemental and socio-economic challenges in Africa, EU funds or partly funds the following infrastructures, programmes and projects: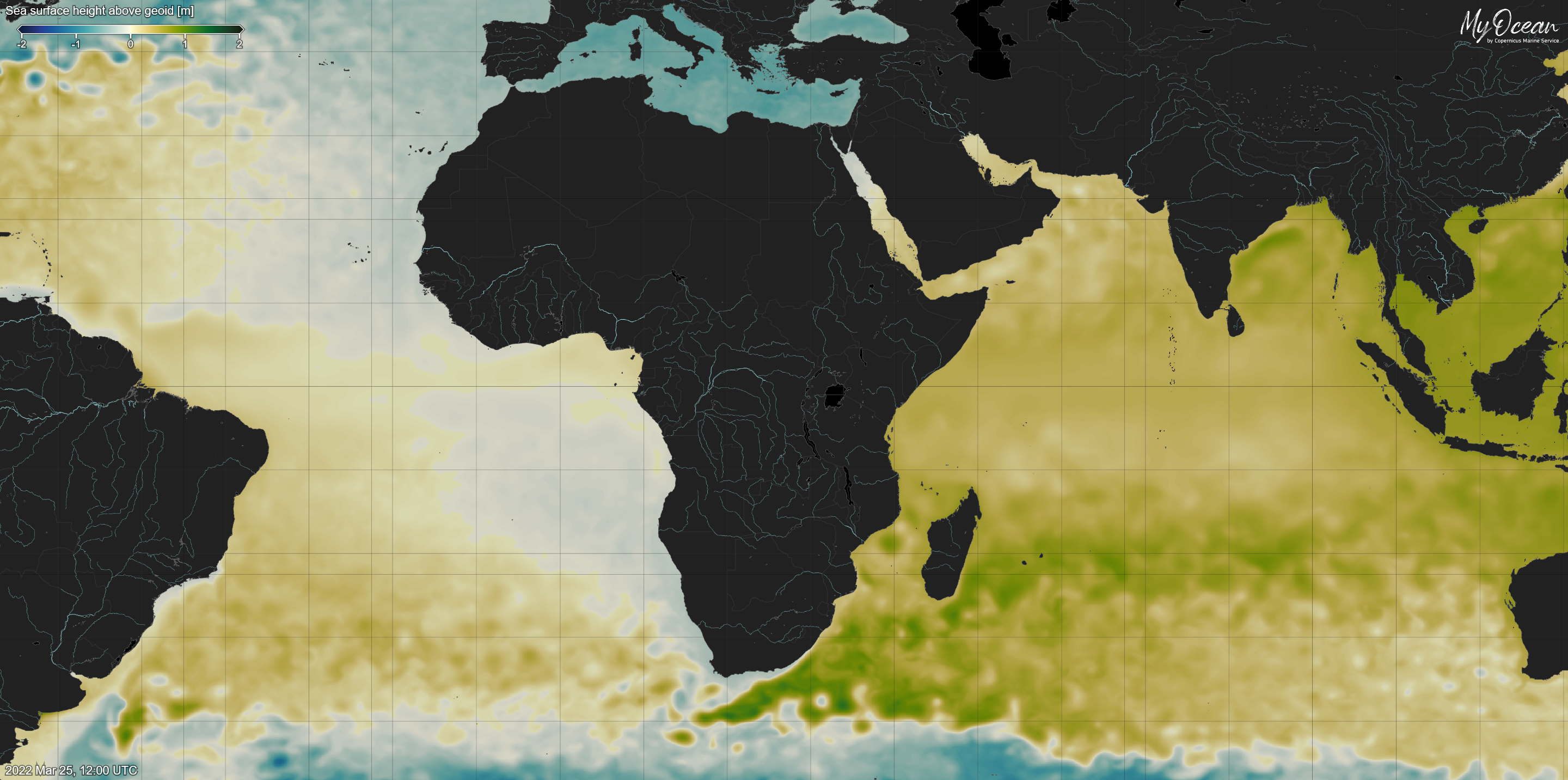 Sea Surface Height above geoid on MyOcean Viewer. To access data product on Copernicus Marine, click here.